MISSION STATEMENT:
​​
To increase the effectiveness of women in the cause of good government; inform the public through political education and activity; promote the principles of the Republican Party; work for Republican candidates in all general elections. We believe in a limited government that is "of the people, by the people, and for the people" at the local, state and national levels.
Follow us on
​Facebook:

© www.rwot.net

Our Monthly Meetings


The First Thursday of the month at
​The Three Earred Rabbit.
​Meet & Greet begins at 5:30 pm,
​with the meeting following at 6 pm.
​
Come and see what we are about!
Everyone welcome!​
2017-2018 OFFICERS: (L-R) Leigh Anne Moorehead, 2nd Vice President, ​Debbie Rangel, President, Mary Richmond, 1st Vice President, ​Jeanette Cosby, Treasurer, Patsy Vines, Secretary
​and Vicky Baily, 1st Vice President AFRW

Not Registered to Vote?

It takes 5 Minutes!!

Download the Application and get more information in our Library​​
Republican Women of Trussville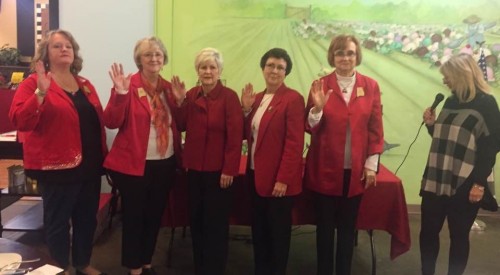 Business Sponsorship-Partnering for a Brighter Future
​We are looking to raise money for our club specifically for education, scholarships and community outreach and are asking businesses in the community to partner with us in advancing those goals. We need each member to obtain two business sponsorships. We think this is a great opportunity for our local businesses! Press this link for more details on what's in it for them!

If you or a family member has a business or you have a favorite business that you think would be interested in partnering with us, reach out to ​them today!

Press this link for the Business Sponsorship application form.
Nov. 1, 2018 - Terry Cates - Quilt of Valor Presentation
Dec.​ 6, 2018 - Christmas Party